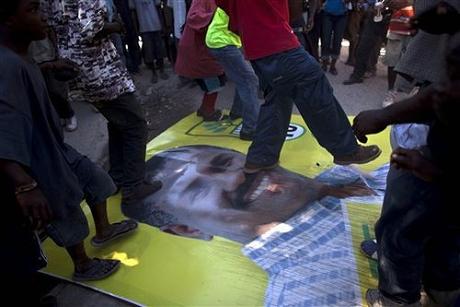 Sanble ke jan sitiasyon ye la dapre denye nouvel kap soti PotoPrins kap tombé Washington, DC,
Jude Celestin kandida pati Preval UNITE a pap memm kalifyé pou deziemm tou!
Denyé nouvel WikiLeaks la touyé chans pati saa net!
Nan zafé chez mizikal presidansyel la Manigat chita sou premye chez la avek 30 poin, e Martelly avek 25 e Celestin reté kanpé red ak 20 poin
Les résultats définitifs du premier tour seront communiqués le 20 décembre, indique le CEP sur son site internet. 2ziem tou a projete pou 16 Janvye 2011
Eske se Celestin ki pedi tet li???
Ou byen Preval ki kozé Celestin pedi???
Ou byen tou le 2 betizé e sou-estime rezilians pep la pou chanjman?
Nou kap poze qestion sa yo yon lot fason.
Eske se Preval kap itilize Celestin pou'l sa pa al an exil??
Eske se Celestin ak pitit-fi Preval la kap fe presyon sou papa a pou fiti mari'l vinn Prezidan? Ou byen 2 ka sa yo valab.?
Fok nou di an pasan ke gen yon seri de neg sou forum saa kita preferé ke eleksyon 2010 saa anilé tan ke se ta Manigat ou byen Martelly kita vinn Prezidan peyi a! Get over it and move on!
Li tro ta!
Nou pa gen tan pou'n pedi pou satisfe kapris politisyen akaryat! Zè a gen tan soti nan b.... poul la!
Preval protege tipped to lose Haiti vote.
By Clarens Renois (AFP) – 8 hours ago
PORT-AU-PRINCE — A tense Haiti awaited Monday the results of pivotal elections that will see a new leader tasked with rebuilding a nation shattered by a January earthquake and gripped by raging cholera.
The National Observation Council (CNO), a local election monitoring group financed by the European Union, estimated that ruling party candidate Jude Celestin would not make it through to a presidential run-off.
Former first lady Mirlande Manigat had 30 percent of the vote, popular musician Michel Martelly 25 percent and Celestin only 20 percent, according to CNO's unofficial estimate based on data from 15 percent of polling stations.
If no candidate garners more than 50 percent of the vote, a second round between the top two will be held on January 16.
Electoral officials are to release preliminary results later Monday or on Tuesday, but it remains unclear whether the announcement will provide the actual outcome of the polls. Final results have been promised by December 20.
More than a week has already passed since the November 28 presidential and legislative polls and thousands have chosen not to wait for the results, taking to the streets instead to denounce the elections as rigged.
Haiti has been plagued by dictatorships and political upheaval, and several past leaders have fled or been forced into exile, including Jean-Bertrand Aristide, Haiti's first democratically elected president.
President Rene Preval is legally barred from seeking a third term and backed ruling INITE (UNITY) party candidate Celestin, who is going out with his daughter and widely viewed as his handpicked protege.
"Arrest Rene Preval! Dismiss the Provisional Electoral Council!" protesters shouted on Sunday as they neared the presidential palace, which was destroyed by January's massive earthquake that killed 250,000 people.
The election campaign was marred by deadly political clashes, alleged assassination attempts and ugly riots in northern Haiti targeting UN peacekeepers accused of bringing in cholera.
Election day itself was chaotic -- several polling stations were trashed by mobs and many quake survivors had no identification papers -- but international monitors said the irregularities should not invalidate the polls.
Twelve of the 18 presidential contenders initially cried foul and called for the polls to be scrapped, but Manigat and Martelly later reversed their decisions and sounded confident about making it through to the second round.
An unexpected admission last week from INITE that Celestin may have lost spurred hopes that the dysfunctional, failing nation could experience a political watershed and manage a relatively peaceful transition of power.
Celestin, 48, had the full use of the INITE party machinery at his disposal for the campaign and his face beamed down from every corner of Port-au-Prince on election posters.
But opinion polls suggested he was not so popular on the street, where Preval, who rose to power as a champion of the poor, has been blamed for a slow response to the quake and a failure to tackle the roots of poverty.
Poll favorite Manigat, a respected 70-year-old academic and longtime opposition leader, is no stranger to the presidential palace, where she served as first lady for a few months in 1988 until her husband Leslie Manigat was ousted from office in a military coup.
Martelly, known to the masses by his stage name "Sweet Micky," is a 49-year-old performer of Haitian kompa music and has a fanatical following among Port-au-Prince's mostly young population.
Whoever does win faces the daunting task of rebuilding a traumatized nation of 10 million that was the poorest in the Americas even before the devastating earthquake, less than one year ago.
Progress has been slow -- some 1.3 million people displaced by the quake live in the squalid tent cities that cling to the steep slopes of the capital.
The elections also come against the backdrop of a spiraling cholera epidemic that has killed 2,071 people and infected more than 90,000.
Health experts say the toll is likely underestimated and have warned the epidemic is yet to peak.
"We unfortunately anticipate despite the most vigorous effort possible that Haiti will have a significant cholera presence for the next several years," USAID administrator Nancy Lindborg told journalists.
"We are expecting that the outbreak will continue to grow, and (we're) working quickly as a result to address that."
Copyright © 2010 AFP. All rights reserved