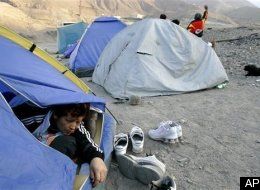 The death toll from Chile's earthquake has more than doubled to 708 and is expected to rise further, President Michelle Bachelet has said.
Previously about 300 people were reported to have been killed in Saturday's 8.8 magnitude quake - one of the most powerful recorded.
Massive damage is hampering rescue teams as they struggle to reach those still buried in the rubble.
However a Pacific-wide alert for a tsunami has been lifted.
Speaking to reporters on Sunday, Ms Bachelet said: "The catastrophe is enormous. The latest number I have is 708 dead."
She said 541 had died in Maule region, 64 in Biobio and a total of 103 in other areas.
She added that the number of people missing was growing.
Earlier, President Bachelet said two million people had been affected by the earthquake.
Many Chileans in affected areas have spent the first night since the earthquake outdoors, afraid to stay inside.
In the central city of Concepcion, in the worst-hit area, police used tear gas and water cannon against looters at a supermarket. The mayor of the city said food was running out and the situation was getting out of control.
Officials said 25 people were rescued from a collapsed building in Concepcion, but dozens who were believed to have been trapped inside were still unaccounted for.
According to unconfirmed reports, the coastal town of Constitucion - close to the epicentre - had suffered 350 deaths, caused both by the quake and the tsunami it set off.
Emergency measures
During Sunday's news conference, Ms Bachelet announced a series of emergency measures:
The Maule and Concepcion regions are being placed under special rules to speed up the delivery of aid
The air force will fly supplies to both areas and the military will take a leading role in distributing them
In Maule and Biobio basic goods will be handed out free of charge. Distribution points are yet to be decided.
Electricity is a big concern and the government is working to guarantee distribution
Responsibility for reconstruction will soon pass to President-elect Sebastian Pinera, who takes office in two weeks.
"It's going to be a very big task and we're going to need resources," he said.
Aid offered
The epicentre of the quake was 115km (70 miles) north-east of Concepcion and 325km south-west of Santiago.
About 1.5 million homes have been damaged. Most of the collapsed buildings were of older design - including many historic structures.
About 90% of the historic centre of the town of Curico was destroyed. Many roads and bridges across the affected area were damaged or destroyed.
One US risk assessor, Eqecat, put the value of the damage at between $15bn and $30bn (£9.8bn-£19.6bn) or 10-20% of gross domestic product.
Officials said public transport services were slowly returning to normal. One metro line in Santiago is now operating. Roads are passable, although with diversions.
The airport in the capital, Santiago, has reopened, with a total of five international flight due to arrive on Sunday. It had been closed because of damage to the terminal and control tower.
Chile has so far not requested foreign assistance, saying it can handle the immediate relief effort.
Foreign Minister Mariano Fernandez said Chile did not want aid offers to be "a distraction", adding: "Any aid that arrives without having been determined to be needed really helps very little."
Meanwhile fears of a devastating tsunami across the Pacific receded on Sunday.
About 50 Pacific countries and territories had issued tsunami alerts.
French Polynesia and Tahiti were among those hit by high waves, but no casualties have been reported.
The Pacific Tsunami Warning Center on Sunday lifted its Pacific-wide alert.