West Palm Beach, Florida
December 17, 2013
Open Letter
To The President of the United Stated of America
Mr. Barack H. Obama
The White House
1600 Pennsylvania Ave NW
Washington, D.C. 20500
Dear Mr. President:
I will try to be as brief as possible but I have so much to tell you that I don't even know where to start. I don't intend to take too much time from your tight schedule and by watching the poll over the Obamacare debacle, I can tell that you have a lot on your mind. In any case, I hope you finish your second term in an utmost positive and peaceful manner.
Mr. President, I know that Mandela's death has touched everyone from all walks of life; yet I feel that so many people have used his departure for personal gratification. The showcase that his friends and foes have displayed on both the local and international media inspired me to write you this letter. Never have I seen such a hypocritical display over a man who had been abandoned by the United Nations and all the other super powers, including The United States of America, which could have put an end to the suffering of the Blacks in South Africa if they wanted to. Instead, they chose to support his incarceration and apartheid; and they placed him on the terrorist list just for having had the courage to fight against an unfair and inhumane system.
Mandela's death helped so many to attain what seemed unattainable while he was alive. For instance, Haiti's President, Michel Martelly, couldn't have been happier; his dream came true. Mandela's passing gave him what money can't buy, a photo opportunity with you! Most of all, Mandela's departure helped the heinous supporters of the apartheid to sponge up their sins.
Mr. President, in my hurting soul witnessing such a hypocrisy, I thought I should use Mandela's death for a greater cause. You know that Mandela believed everyone no matter his or her skin color should have the right to live as a human being without any social, political and religious inhibition. Here, I am simply trying to intercede in favor of Haiti in the name of Mandela and what he stood for. It doesn't make any sense, while the so-called freedom loving people are talking about Mandela's grace, forgiveness and love for humanity and his tormentors, for Haiti, the first Black free Nation in the western hemisphere, to be going through social, political and economic upheavals. Haiti is in such a tumultuous state because of the international community's meddling in Haiti's affair.
Mr. President, I don't think that Mandela's soul can rest in peace while watching this display of indifference and barbarism by the international community towards Haiti; he had no use for inequality in any form or shape whether disguised or not.
Mr. President, it seems that Haiti's enemies have taken and continue to take a malicious pleasure in throwing her into turmoil after turmoil since 1804. There is not another country on planet earth that has been so abused, detested, violated, humiliated, and ransacked like Haiti; just for the simple fact that her founding fathers put an end to the institution of slavery.
The Haitian people cannot even elect Presidents of their choice without paying dearly for this constitutional right. Hillary and Bill Clinton, maybe with your blessing, single-handedly, chose a vulgar musician, Michel Martelly, and made him the President of Haiti.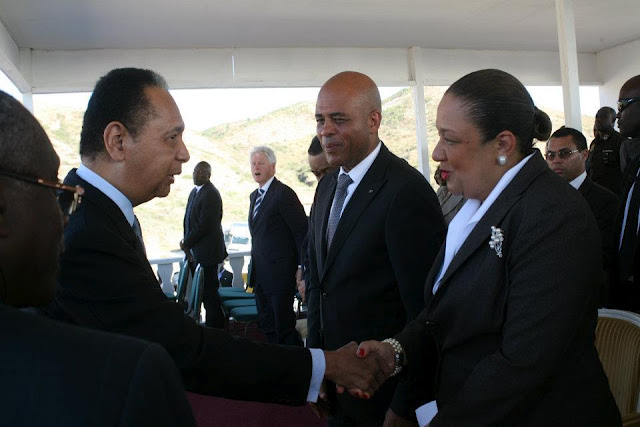 Your ambassador to Haiti doesn't know her diplomatic role. She doesn't respect the Haitian people nor the constitution of the land. She shamelessly shows allegiance to Michel Martelly by wearing his infamous pink bracelet! Mr. President, don't you think, out of respect for Mandela's legacy, that there must be real change? After giving such an eloquent speech at Mandela's memorial in South Africa, if your administration continues to do business as usual towards Haiti, I will join the voiceless who label this pure hypocrisy and demagoguery.
Mr. President, Haiti doesn't need to be occupied by the United Nations. Invaders never bring peace and development to the occupied! Because of ignorance, hatred and spitefulness, Haiti remains in rag, while her iridium, bauxite, gold, black marble, copper, petroleum, natural gases, and so forth have been and are being stolen obscenely by her so-called friends. The same heinous jackals who had supported the apartheid in South Africa are playing havoc with Haiti's wealth.
Mr. President, do you know that apartheid is in full gear in Haiti? The backward Haitian oligarchy supported by the international schemers, has total control over Haiti's riches while the impoverished are getting poorer. Haiti is in peril, and her tormentors take pride in keeping her in such ruined state. What do you think Mandela would do at this precise moment?
Mr. President, since you knew Mandela so much, maybe you won't have any trouble answering this question: Do you know that African-Americans used to escape to Haiti in quest for freedom? Today, isn't it ironic that Haitians are risking their lives in quest for a better life! In loving memory of Mandela, please give Haiti a chance so she could re-born from her ashes. The world owes this to her; without Jean-Jacques Dessalines, there wouldn't be a Madiba. Mandela knew this!
Haiti is the beckon of humankind. African-Americans and the countries that she helped gained their own independence cannot stand idle, while Haiti, the first Black Republic, is in such misery.
Mr. President, if you really believe Mandela is the symbol of unity, take a fair look at Haiti and do the right thing to give Madiba's legacy a meaningful sense.
I truly thank you for your comprehension and cooperation!
Sincerely,
Maud Jean-Michel