WHAT IF WOODROW WILSON WAS THE FIRST BLACK PRESIDENT OF THE U.S.?
On July 28, 1915, U.S. Marines who were selected from the most racist southern states invaded the abolitionist Republic of Haiti, upon executive order of U.S President Woodrow Wilson. Within a matter of months, they raped, tortured or killed hundreds of women, men and children all over Haiti. They stole the country's gold reserve and sent it to National City Bank of New-York.
https://en.wikipedia.org/wiki/United_States_occupation_of_Haiti
Provided the white supremacist environment of the day, few were surprised by the attitude of U.S. President Woodrow Wilson who justified his heinous action on the basis of "manifest destiny". Inspired by the crimes of their forefathers, Yankee occupation forces instated a race-based slavery system, dubbed "la corvée", upon which black Haitians were forced to build roads for use by U.S. occupation forces. Haitian resistance leaders were rounded up and killed by the hundreds.
A couple of decades prior to the invasion of Haiti, when the U.S. tried to recruit famous African-American abolitionist leader Frederick Douglass to facilitate the theft of Haiti's Môle St-Nicolas, Douglass refused to cooperate. On account of his principled stance, Douglass was accused of being a "traitor to America".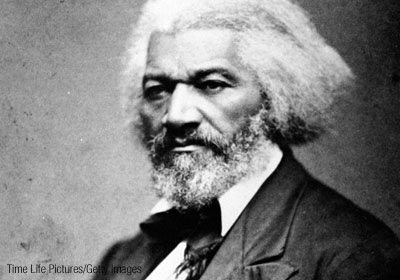 Throughout the occupation years, African-American author and NAACP leader James Weldon Johnson raised a mighty voice to research, document, publicize and denounce the atrocities being committed against Haiti's population.
http://historymatters.gmu.edu/d/5018/
These gentlemen took great risks defending right over might, in a day when white supremacist racism was all powerful in America. These were days when a black man could not vote. Folks then could not even imagine a day coming when a black family would eventually live as "owners" in the White House.
In the early 1800s Haiti represented a refuge and opportunity to Africans all over the Americas, including the United States of North-America. Dessalines' offer of asylum and citizenship to any formerly enslaved African who sets foot on Haitian soil was heard far and wide. From the days of Dessalines and on to Petion, Boyer, Geffrard and Soulouque, several thousands left U.S. shores, seeking and finding refuge on Haitian shores. These were years when American "boat peoples" traveled south towards Haiti. We, therefore, understand the motivation for Douglass and Johnson's bravery in favor of Haiti.
http://nyupress.org/books/9780814764930/
Today, as we approach the 100th anniversary of the Yankee invasion of Haiti, who shall be their emulators?As we witnessed a U.S puppet (Haitian) dictator selected by the U.S. in fake elections in 2010, what voices did we hear raised among Africans in the Americas? As surely as Wilson and his klan had selected Sudre Dartiguenave in 1915, Clinton hand-picked Martelly. What was, what is, Barack Obama doing all this while?
Shall we resign ourselves to seeing the bamboozled faces of Lil' Wayne and Chris Brown when our hearts' eyes seek the sight of Douglass and Johnson?
African leadership in the Americas once had real meaning. It should not be about song and dance. As Barack Obama swags his way through Africa this week, I do hope Dessalines' dream disturbs his nights: "and those whose fathers (were) in Africa (in 1804), shall they (continue to) have nothing" !?
Amandla! Ayibobo!
Jafrikayiti
"ou wè dan m, ou pa wè anndan m!"